What Are The Types Of Grinding Operation Of The Three-rings Roller Mill?
From : clirik    Date : 2018-08-15 10:51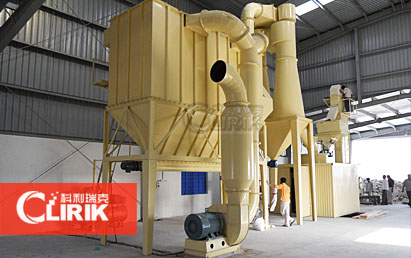 What are the types of grinding operation of the three-rings roller mill?
Three-rings roller mill
can process a variety of materials. With the continuous development of the three-rings roller mill, ordinary milling equipment can no longer meet the needs of grinding technology. On the basis of the grinding machine, the new three-rings roller mill is continuously developed and produced. equipment.
There are two kinds of transmission modes of the three-rings roller mill. The
belt decelerates and rotates,
and
the speed reducer rotates
. The belt rotation structure is simple, the cost is low, and the transmission efficiency is 95%. The effect is obvious when there is no overload, and it is easy to cause if an overload occurs. Slippage, the movement of the belt is in an unstable state, which will directly affect the normal operation of the main machine. In this case, it is easy to produce coarse powder particles in the pulverized powder, so that the grading load is increased, and the grading motor current is The power consumption will increase. In order to reduce the sliding loss, the rotation speed of the grinding rotor can be increased. This will cause the main engine to vibrate loudly. This type of transmission can be used if the production requirement is not too high, if the customer requests Very high, you need to change the transmission mode.
The main motor of the three-rings roller mill drives the main shaft and the turntable of each layer through the pulley. The turntable drives the dozens of ring rollers to roll and rotate in the grinding ring raceway through the pin. The running speed is 220 rpm, and the transmission mode is relatively straightforward. There is no indirect transmission, and the transmission effect is obvious. From the start to the start of the equipment to the normal feeding production, the dynamic balance and noise of the equipment can be Know if the operation is good.
The three-rings roller mill has a high degree of automation when processing ore materials. The entire production line requires almost no manual operation except for the startup and shutdown of the equipment and daily maintenance. The production efficiency is high, the running cost is low, and the grinding output is large. High efficiency, uniform particle size of finished products, in line with the requirements of national grinding materials. The configuration of the three-ring roller mill production line is mainly determined by the customer's use of stone specifications and production. Shanghai Clirik Machinery Co.,Ltd provides pre-sales to the entire production line. , in-sale, after-sales comprehensive service, according to the customer's production site to configure, and strive to achieve a reasonable, economical production form for customers.
Main Specification of three-rings roller mill:
Model
HGM80
HGM90
HGM100L
HGM125
Ring Diameter(mm)
800
900
1000
1300
Ring Number(layer)
3
3
4
4
Roller Number(piece)
21
27
36
44
Main Shaft Speed (r.p.m)
200-240
200-220
180-200
135-155
Input Size(mm)
≤20
≤20
≤25
≤25
Finished Size(um/mesh)
5-47
(325-2500)
5-47
(325-2500)
5-47
(325-2500)
5-47
(325-2500)
Capacity(t/h)
0.5-4.5
0.6-6.5
1-8.5
1.5-12
Overall Dimension(L*W*H,m)
13.9*4*6.2
14.7*4.8*7.2
18*4.6*8.6
14*9*10.25
Motor Powder(Kw)
123-143
168.35
234.95
344.4
Other related equipment:
Last:About Calcium Carbonate Roller Mill The Things You Should Know