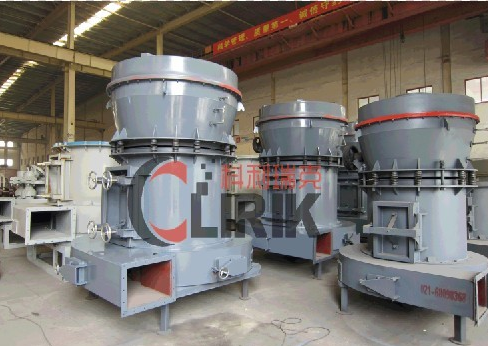 Raymond roller mill, Roller powder grinding mill:
Shanghai Clirik Machinery Co., Ltd is a large professional manufacturer of Raymond roller mill,The Clirik Raymond roller mill have five models: YGM7815,YGM8314,YGM9517,YGM4121,MTM1600.
Shell Size:15-35mm
Grinding Weight:1.2 - 11 T
Application:The Raymond roller mill is widely used in small and medium mining, chemicals, building materials, metallurgy, refractories, pharmaceuticals, cement and other industries.
Raw Material:such as gypsum, talc, calcite, limestone, marble, barite, dolomite, granite, kaolin, bauxite, fly ash , oxidation iron oxide red, iron ore, etc.
Output:30 - 425 mesh

introduction of Raymond roller mill:
Raymond roller mill, also known as Raymond Grinder or Pendulum Grinder, is designed by Clirik Machinery with Germany technology. The Raymond roller mill is more efficient than ball mill in some area, with features of closed circuit for high fine powder devices.

Raymond roller mill Features :
1.Low production cost, high-performance
Overall for the vertical structure, small footprint, systematic, from raw material delivered to the milling and roughing to final packaging, of an independent production system
2.Good stability, high reliability
Raymond Host transmission device adopts enclosed gear boxes and pulleys, transmission smooth, reliable operation.
3.Perfect particle size
Electrical system adopts centralized control, milling workshop basic enabling unmanned operation.

Structure of Raymond roller mill
Raymond roller mill is mainly composed of main unit, analyzer, fan, dischargeing cyclone separator, powder cyclone separator and air duct. Among them, the main unit consists of frame, blow shell, shovel, grinding roller and grinding ring.

Working principle of Raymond roller mill
The rollers tightly rolled on the ring under the effect of centrifugal force. Shovel sends material between the roller and ring and the material is grinded into powder under the high pressure.Then the fan blows the power up into the analyzer. At this time, the power material met the fineness requirement get through the analyzer and get into the power cyclone separator while the others will be sent back for re-grinding.The whole system is airtight circulation.

Technical Parameter of Raymond roller mill:
Type
Roller
Max. feeding size(mm)
Fineness of product(mm)
Output (t/h)
Power of machine(KW)
Size(mm)
No.
Dimension(mm)
Height(mm)
YGM7815
3
260
150
15
0.613-0.033
1-3
18.5
4300*3500*5100
YGM8314
3
270
140
20
0.613-0.033
1.2-4.6
22
5300*4100*5200
YGM9517
4
310
170
25
0.613-0.033
2.1-5.6
37
7100*5900*7900
YGM4121
5
410
210
30
0.613-0.033
2.8-10.5
75
9200*7250*9700
MTM1600
6
440
270
35
0.613-0.033
5-20
132
12550*5700*8350
Notice: Any change of Raymond roller mill technical data shall not be advised additionally.
Raymond roller mill Price
If you want to know the
Raymond roller mill
price
or have any questions about
Raymond roller mill
, please do not hesitate to contact us.
Phone: 0086-21-20236178