The Moisture in Raw Material Affects the Roll Mill Machining
From : clirik    Date : 2014-08-12 11:26
Raymond mill, also known as Raymond roll mill, is a kind of grinding equipment. For example YGM8315 Raymond Mill,it looks like a steel container erected with air intake and outlet. There is a central feeding port on it. According to different materials, fineness and production requiement,they can be divided into different types. Raymond milll is suitable for various coal pulverizing preparation and mineral powder preparation.

The lower part of Raymond mill motor turns the internal grinding rod then pulverize and grind the raw materials. It blows up the material up and the classifier at the higher part will seperate the fine powder from the rough powder. Finanly,the Raymond mill will collect the powder by the outlet.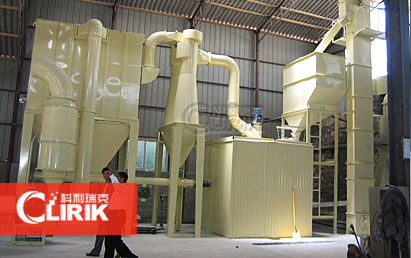 When the materials contains too much moisture,they are prone to paste on the mill, the grinding powder becomes adhesive to the medium and the liner board, which reduces the efficiency somtimes even seriously causes the blockage of the storehous boargrate hole and the poor ventilation. The material becomes hard to go through the machine and the production falls sharply. The production quality also fluctuates greatly.

According to the production practices, all kinds of material moisture can be controlled within the scope of the following: limestone<1%,clay<2%,iron powder<8%,mixed material<2%,gypsum<8%,clinker<0.5%,coal<4%, and the integrated moisture control within 1.5%.

Shanghai Clirik Machinery Co.Ltd. has been devoted to the research of the Raymond mill for many years. Its Raymond mill with advanced high technology is applied to metallurgy, building materials, chemical industry, minings and othe producting in the milling field. The Raymond mill is more proficient than ball mill. It has the features of high efficiency,low power consumption,little area occupation and small investment, which meet the needs of the small and medium-sized enterprises.
Last:Non-metal Ore Introduction
Next:Shanghai Mill Industry Must Get on the Road of Specializatio