Raymond Roller Mill of Clirik stands out among powder mills
From : clirik    Date : 2014-08-28 10:46
Raymond roller mill
is the earliest kind of grinding powder making machine introduced from abroad, which is suitable for various mining powder including the coal
equipment, for example, the procession of raw material ore, gypsum ore, coal and other powder of such materials like that. Under the push of the development of dome
stic basic industry and basic construction, inland has born a great quantity of Raymond roller mill manufacturers with professional technology. Clirik is just one among
these professional manufacturers.
Clirik has devoted to Raymond roller mill researching and producing over the years. The three ring Raymond roller mill and HGM series has great reputation for its
excellent quality. Clirik took in foreign advanced technology and combined it with years of grinding mill producing experience, finally invented its own Raymond roller mill.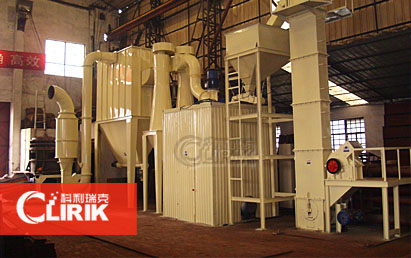 Raymond roller mill
consist of a high pressure spring with a pressure of1500kg whichis close tightened to the roller hanging bracket. When it starts work, the roller
rotates around the axle, it rolls close to the ring under the effect of high pressure and the centrifugal force. Its rolling pressure is 20% higher than the Raymond roller
mill with equal energy,increasing the capacity greatly.
When the roller and ring are wear in some degree, adjust the length of the high pressure spring and keep the rolling pressure between the roller and the ring, which
will keep the capacity and fineness steady.
New
Raymond roller mill
produced by Clirik is designed, researched and developed on the basis of original Raymond mill according to the requirements and suggestion of experts at home and abroad. It has features of stable operation, sophisticated technology and rigorous process, which ensure the durability of the whole equipment. Unattended operation in workshop and convenient maintenance make up its another advantage. Everything above makes Clirik Raymond roller mill stands out among the numerous grinding mill manufacturers, realizing the new era of high efficiency and low cost in powder grinding.
Last:How to Crush the Marble Correctly