Talc mill manufacturer Raymond mill price in china
From : clirik    Date : 2019-01-12 16:04
Talc powder, high market value, grinding talcum powder, what kind of talc grinding equipment can be used? The talc mill manufacturer Guilin clirik is a manufacturer based on the powder processing market. The clirik series mill can meet the demand of talcum powder production. Among them, the talc Raymond mill has considerable market prospects and good market reputation. High grinding efficiency, low energy consumption, energy saving and consumption reduction, is the favorite grinding equipment for talc customers. clirik provides tailor-made services for each customer, and develops reasonable price of talc Raymond mill to help talc industry. Create capacity and value.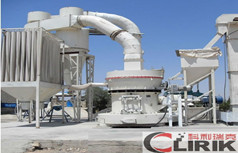 1. talc mill manufacturer Guilin clirik provides customers with advanced equipment
As a manufacturer of mills, Guilin clirik is also a more professional talc mill manufacturer, with precision production, continuous innovation, advancing with the times, pioneering and enterprising, providing more ideal grinding equipment for many non-metallic mineral fields. Help the powder industry create market profit and value. Grinding talcum powder, Raymond mill is a good assistant, high productivity, low energy consumption, high performance, excellent quality, won the trust and love. Guilin clirik is an experienced mill manufacturer and supplier, and strives to create value for every customer.
2. What is the price of the talc Raymond mill? What are the advantages of this mill?
Raymond mill has many advantages. Under the new industrial manufacturing situation, the new Raymond mill breaks through the drawbacks of the traditional mill's milling, ushers in new technological innovations, and is a powder enterprise. Create grinding equipment with greater capacity. The Raymond mill covers a number of patented technologies, with high productivity and low energy consumption. It is equipped with a pulse dust collector to achieve 99% dust collection efficiency. The production workshop is clean and tidy, with less dust emission. It is a favorite of talcum powder customers. Grinding equipment.
So, what is the price of the talc Raymond mill? clirik provides tailor-made services, which is based on the customer's grinding needs. Therefore, the grinding fineness, production capacity, production area, etc. are closely related to the price of the talc Raymond mill.
Last:10 factors influencing the preparation of ultrafine quartz powder by ball millin
Next:Vertical mill to help graphite grinding process to increase production capacity?