Price of Stone Roller Mill for Stone Powder Grinding
From : clirik    Date : 2018-05-16 09:32
The
stone roller mill
also be called the stone powder grinding mill, superfine powder grinding machine; it's one of common use stone powder making machines. The stone roller mill can be used in 300-3000 mesh stone powder grinding, however, if you want to process the high quality stone powder, choose one professional team is very important, no just the company team, but also the grinding machines team. So what's the price of whole set stone powder roller mill equipment?
The whole set stone powder making machines including: stone crusher, stone roller mill, hoist, conveyor, powder dust collector, powder packing machine and so on.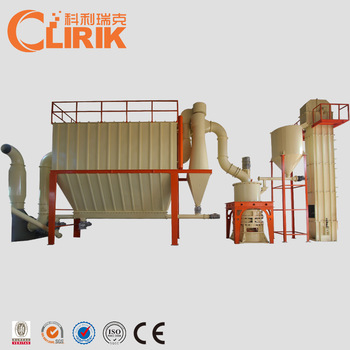 The most expensive machine in the whole set stone powder grinding mill line is
stone roller mill
. Our Shanghai Clirik Machinery is professional grinding mill manufacturer, we have five models of grinding mills, there are named HGM80, HGM90, HGM100, HGM125 and HGM1680L. The largest output machine in them is HGM1680L, and the smallest is HGM80. The price of grinding mill host is between $30000-$60000. So the whole set stone powder production line have a more cost.
The whole set
stone powder production line
is about $80000 to $100000. if you are interested in our stone roller mill. Or you want to know the accurately of every machines, you can leave your buy message on our website. Our sales manager or technical engineer would contact you as soon as possible. Thanks for your reading.
Last:Advantages of Ultra Fine Vertical Roller Mill