YGM7815 Raymond Mill Accords with Coarse Powder Making
From : clirik    Date : 2014-09-05 09:20
YGM7815 Raymond Mill
Accords with Coarse Powder Making. This machine is also a kind of
Raymond Roller Mill
. Its finished product size ranges from 50 and 325 mesh (315-45 micron). And its processing materials include quartz, feldspar, barite, calcite carbonate, limestone, talc, ceramic, iron ore, carborundum, bauxite, rock phosphate, coal and other materials, about 400 kinds of materials in total.
YGM7815 Raymond Mill
is a new kind of machine produced by Clirik obtaining the latest technology at home and abroad this machine is suitable to process the raw materials into big granula. And various non-flammable and non-explosive mineral materials with Moh's hardness less than 9.3 and humidity less than 6% is the proper stuff to be ground by this
Raymond Roller Mill
.Therefore, the ramond roller mill is mainly used for ore, stone crushing.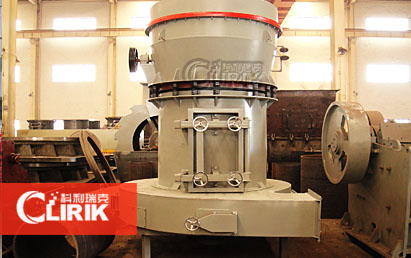 Then how does this machine work? First, large chunks of raw materials are crushed by jaw crusher to the required particle sizes, and carried by bucket elevator to the storage hopper, and are fed evenly and continuously by vibrating feeder into the main unit for grinding. Then,he grinded powder are carried by the airflow from the blower to the classifier to be classified, the particles which meet the fineness enter cyclone collector through pipe, and are separated and collected there. At last, they are discharged at the discharging valve to become the finished products; the airflow is sucked to the blower by return pipe on the top of cyclone collector. The whole airflow system is a sealed circulation, and is circulated under positive and negative air pressure.
The capacity of
YGM7815 Raymond Mill
can reach 3 ton/hour, and its main advantage is low cost and powder consumption and easy transportation. The best economical machine among the
Raymond Roller Mills
is with high quality with warranty for 1 year. This reliable ore crushing machine is worth owning.
Last:What Roll Mill is Suitable to Make Dolomite Powder
Next:Our Engineer Came Back from Egypt Calcite Roll Mill Work Sit