The Real Effect of The Three-ring Roller Mill Is This
From : clirik    Date : 2017-04-01 09:40
As a common grinding equipment, the three-ring roller mill is easy to operate,three-ring roller mill is very easy to operate and maintain, only 2-3 workers can produce, and the entire factory only needs to make some adjustments through the button.Three-ring roller mill mainly consists of main engine, sub-machine, dust collector, dust collector, blower, silencer, soundproof room, crusher, bucket elevator, storage hopper, vibration feeder.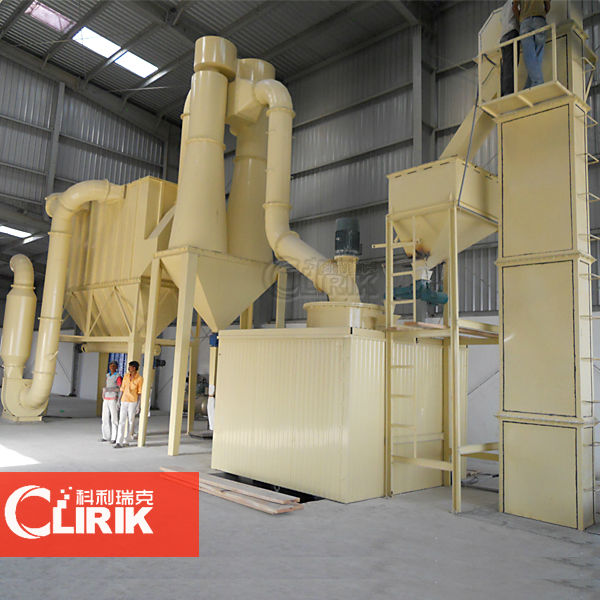 After crushing with a hammer crusher, the large material becomes smaller, and then the material is fed into the storage bin through the elevator, and is fed into the upper distribution plate of the rotary plate through the vibrating feeder and the tilting feeder evenly.The high-pressure air blower continues to inhale the air inside the grinder, and then bring the pulverized material to the classifier, the high speed impeller will separate the airflow.Unqualified particle size will drop and return to the grinder while the qualifying particle size will enter the powder collector.Most of the qualified powder will fall from the bottom and leave, a small percentage of the fine powder moves with the airflow to the precipitator and is attached to the surface of the filter bag.At the same time, due to the instantaneous injection high-pressure gas, surface fine powder down.Then the material is sent from the bottom conveyor, and we get the finished powder.In addition, clean filtered air will be discharged from the outlet of the muffler.
Three-ring roller mill is very easy to operate and control,is conducive to saving labor costs,Shanghai Clirik as a common grinding equipment manufacturers,Specializing in producing a variety of grinding equipment,It produces Raymond Mill, high-pressure grinding, ultra-fine grinding,
three-ring roller mill
and other equipment,have a very wide range of applications In the market.If you want to know the mill's catalog and price, welcome to contact us.
Last:Do You Know The Latest Offer for Raymond Mill?