The Material of the Roll Mill Process
From : clirik    Date : 2013-08-12 10:54
HGM series micro powder roll mill is the equipment specializing in producing fine and superfine powder of non-inflammable, non-explosive and brittle material with Moh's hardness under six,the moisture under 5 %,such as calcite,chalk,limestone,dolomite,kaolin,bentonite,taic,mica,magnesite,illite,pyrophyllite and vermiculite, sepiolite,attapulgite, rectorite,diatomite,barite,gypsum,alunite,graphite,fluorite,rock phosphate,kalium ore,pumice,etc.,totally more than 100 kinds of material.
The application of the final products can be for Daily Necessities,Floor,Wall Tile,Chemical Industry,Constructions, Decorations,PVC products,Wear-resistant Material, Paper-making Materils, Appliance and Electrical Materials.
Micro powder Roll mill is designed by our R&D department on the basis of multiple innovation and testing. It has been proved by thousands of customers that our machine has outstanding features, stable quality, easy operation and maintenance. It is the ideal equipment for fine powder milling.
The material of roll mill can be process is so widely, the final products can be used in so many industry, the HGM serials roll mill is very welcomed by all kinds of customers, and our customers all from all over the world.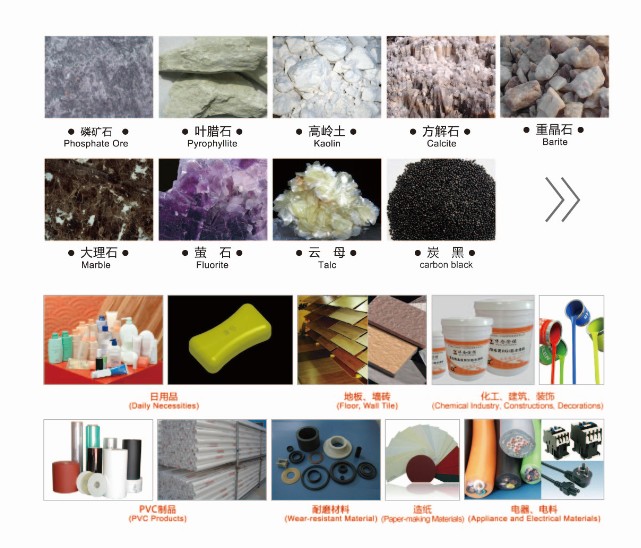 Last:Work Principle of Roll Mill