The Day Output of Raymond Roller Mill
From : clirik    Date : 2018-04-25 09:36
Raymond roller mill
is the most commonly used fine powder preparation equipment, and it is also a traditional grinding machine. It can not only process non-metallic ore, but also process metal ore. Most of the Raymond mill processing fineness range is 50 mesh to 450 mesh, the production is difficult to be processed with the material, the fineness of finished product is required, the production of soft and hard materials such as limestone and gypsum will be a little bit larger, and the production of hard materials such as silicon carbide and quartz stone will be slightly smaller, generally speaking, the capacity of Raymond roller mill on average can up to 1-50 T/H.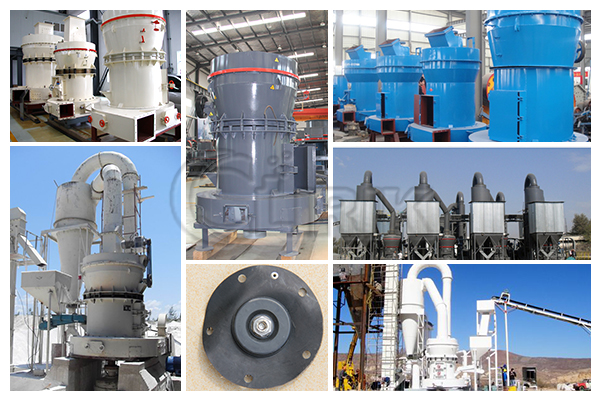 With the development of science and technology, with the improvement of the quality of fine powder in various industries, and the strict requirement of environmental protection, the fine powder production equipment is gradually upgraded. The upgrading product is YGM series Raymond roller mill. It not only improves the fineness, grain type and production, but also has more environmental protection and energy saving. Its processing materials including: calcium carbonate, limestone, calcite, marble, kaolin, limestone, gypsum, bauxite, talcum, feldspar, clay mineral and quart.
So what's the one day production of Raymond roller mill, take limestone powder grinding as an example, the most common fineness of limestone using the fine powder range is 200 mesh, 325 mesh, 600 mesh are generally used size of limestone in power plants. The construction industry has a minimum production capacity of 3-5 T/H and 8 hours a day, that is to say, It can produce at least 200-325 mesh limestone powder at about 24-40 tons per day. Fineness 325-600, the yield will be smaller, because the finer the fineness, the smaller the output will be, the yield is more than 2 T/H, one day is greater than or equal to 16 tons. The output of Raymond roller mill can be adjusted according to the requirements of customers. The specific output depends mainly on the fineness and nature of the material.
Last:Production Parameters of CLUM Ultra Fine Vertical Roller Mill