Clirik perfects the roll mill production service system
From : clirik    Date : 2014-08-09 08:13
Taking a new road to industrialization and building a conservation-minded society, is a clear requirement of the party central committee of China to mining enterprises .The mining machinery industry in China compared to international industry still exists a certain gap, however it is pregnant with the huge development potential. Shanghai Clirik responded positively to the call of the party central committee, and perfected crushing equipment production service system from three aspects as the quality of the products, information and international orientation and it strengthened the international competitiveness of the roll mill equipment.
First: Pay more attention to the quality. Clirik regards product quality as enterprise life and stress the quality of mining machinery products throughout the whole technology, production and organization process; Clirik puts it throughout the roll milling machinery parts, equipment and various processes and throughout the product assembly and commissioning of grinding machine until the user site installation and all-round and all weather after-sales service work. Quality is the soul of the equipment, so Clirik has been adhering to the "quality brand, service brand" concept, resolutely keeping the quality at the first place.
Second: Adhere to the road of informatization. Informationization has turned into reality in Clirik. Clirik develops the professional electric department using the network information to exploit market. The utilization of the electronic commerce opens the door of the domestic and overseas mining machinery market, making Clirik mill sold to all over the world. Clirik had spared no efforts to create a series of grinding equipment (such as:
vertical mill
,
HGM series grinde
r, etc.) to be sold to Oceania, South America, southeast Asia, Africa and other places in the world.
Third, develop in the direction of internationalization. Observing from the world grinding equipment market, China's mill equipment in production capacity and technological content, compared with the same industry especially the developed countries still exist a big gap. Clirik has been geared to the needs of international development direction, walking on to the road of introducing the international advanced technology and independent research, and try to narrow the gap with the international first-class equipment.It has of formed a professional talent group, excellent equipment, perfect system, and carefully crafted to produce high quality flour mill equipment.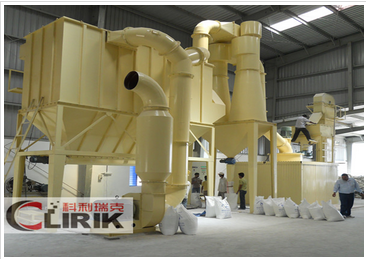 Last:Calcium carbonate roller mill in Tanzania