Welcome Customers from Poland Visiting our Company.
From : clirik    Date : 2014-07-31 15:03
This is another special day,our costomers from Poland came to our company,Clirik, for a visit and a great product order !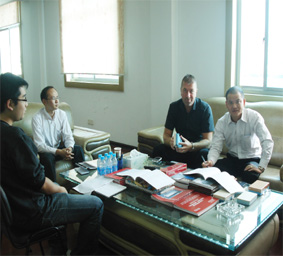 Our customers are warmly welcomed by our reception personels and their need is carefully recorded.They said they were going to order several sets of machines then take it back to their country.'Your machine is efficient and productive,'One of our customers said.Our technician replied,"Yes,but it may be only one of its features,there are also some other important features in our machines, like stable qulity, easy operation and maintenance and so on.Meanwhile,their prices are rather low and reasonable "In order to make our customer more relieved,our sales manager guaranteed the tracking service for product for one year,life time warranty as convention.What's more,some other services are provided at the same time,like installation guide for clients from abroad,whole process training and guidance from our technicians and reminding for the service life of the wearing parts.Receiving such considerate
after-sales services,our customer showed up a bright smile from worrying about how to deal with these steel monsters when they knew little about them.
How can Clirik ensure so many considerate services with such low prices and high product quality ?That's not a mystery,we will reveal it later.You can see it in our next installment in our news column .
Last:Technical Parameter of Calcium Carbonate Roller Mill
Next:Happy Army Day!