Shanghai Raymond Roller Mill-Clirik-Ore Special Raymond Roller Mill
From : clirik    Date : 2019-01-14 13:23
The products of Shanghai Clirik Machinery Co., Ltd. mainly include superfine mill, Raymond roller mill, ultra-fine vertical mill, high-pressure suspension roller mill, coarse powder mill, hammer crusher, jaw crusher. Machine, hoist, dust collector, etc., crushing equipment and its ancillary products, Tel: 008618001642498 (WhatsApp and Wechat available)
What are the matters needing attention in Raymond's work?
1. During the use of Raymond Mill, there should be fixed personnel responsible for the care, and the operators must have a certain level of technology. Before the installation of the mill, the operator must carry out the necessary technical training to understand the principle performance of the mill and familiar with the operating procedures.
2. After using the Raymond mill for a period of time, it should be repaired and repaired. At the same time, the wearing parts such as the grinding roller and the blade should be repaired and replaced. The grinding roller device should be carefully checked before and after the use. There is looseness and the grease is added.
3. When the grinding roller device is used for more than 500 hours to replace the grinding roller, the rolling bearings in the roller sleeve must be cleaned, and the damaged parts should be replaced in time. The fueling tool can be manually pumped and greased.
The whole structure of Raymond Mill is composed of main machine, analysis machine, pipeline device and blower. It can be equipped with crusher, hoist, electromagnetic vibrating feeder and electric control motor according to user needs.
After the material is pulverized to the required particle size, the material is sent to the storage hopper by the hoist, and then the material is uniformly and continuously fed into the Raymond mill main grinding chamber through the vibrating feeder, and the grinding roller swings outward due to the centrifugal force during the rotation.
Pressing on the grinding ring, the blade shovels the material and sends it between the grinding roller and the grinding ring, which is crushed by the rolling of the grinding roller.
The fine powder after grinding of the material is brought into the analysis machine for sorting with the circulating wind of the blower, and the finely coarse material falls back to the regrind, and the qualified fine powder enters the finished cyclone powder collector with the airflow, and is discharged through the powder discharging pipe. That is the finished product.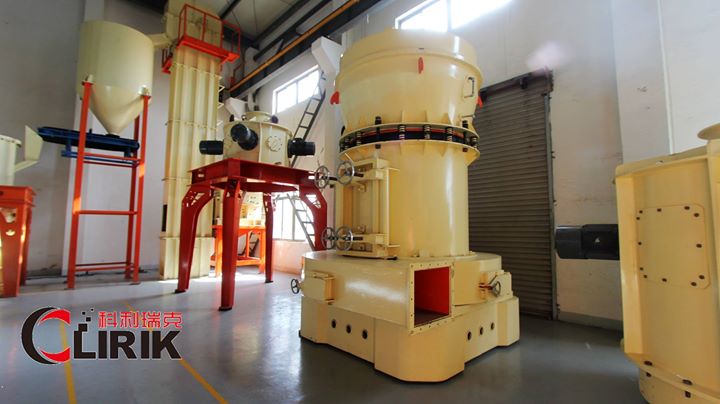 Last:Roller Grinding Mill Plant in India
Next:Clirik: What are the differences between Raymond roller mill and medium speed mi